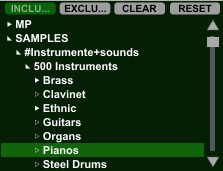 The device now offers a little browser window to select any subfolder to be included. This is a huge step forward in terms of usability. Select a group of subfolders from totally different locations to form the basis for the random selection. Furthermore countless improvements under the hood. The result is a faster loading device that uses less resources.
Oh, Max 7 is now required because of one main reason. Max 7 comes with a newer SQLite version that allows recursive queries. For example to find all subfolders of a folder with unknown and unlimited search depth in the database.
Over years I was convinced that a m4l device's audiofile is not taken into account when you "collect all and save" to make a Live project portable. That's simply wrong. The live.drop object makes this possible and is of course now implemented into the Random Simpler.
Please check out the further changes and have fun.