11nocturn
| | |
| --- | --- |
| Name: | 11nocturn |
| Version: | 2014/01/25 |
| Published: | 2014/02/23 |
| Updated: | - |
| Type: | C external for Max |
| Platform: | only Windows x86/x64 |

A Max external that communicates directly with the Novation Nocturn usb device. No Automap, no script or virtual midi line in between.
This is coded with the help of libusb-win32, a port of the USB library libusb 0.1 to the Microsoft Windows operating systems. This release has NOT been tested extensively with many different maschines and conditions. Your feedback is really appreciated!
Screenshots: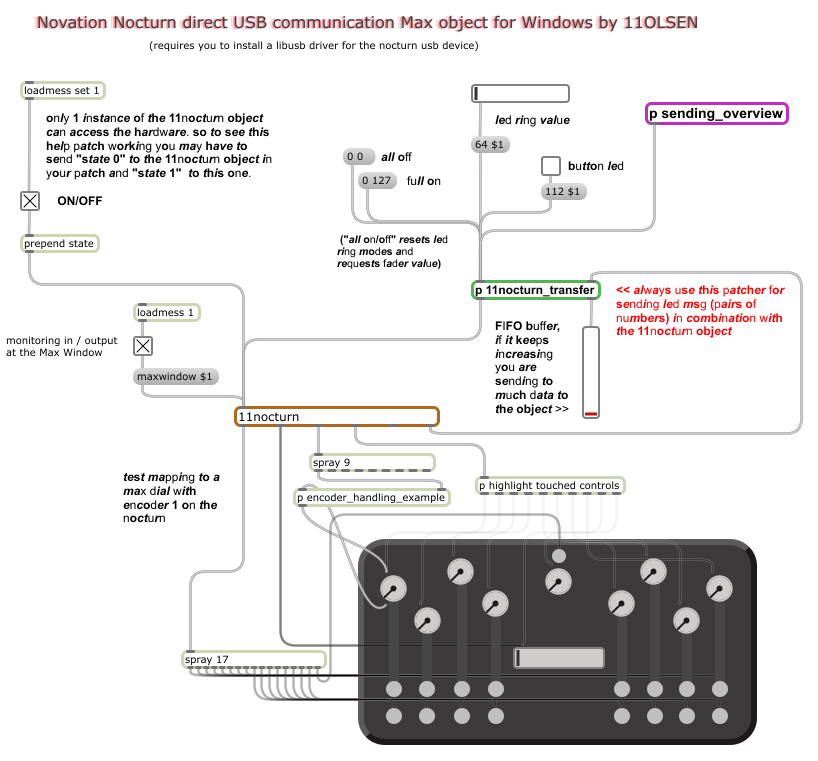 Special Requirements:
Novation Nocturn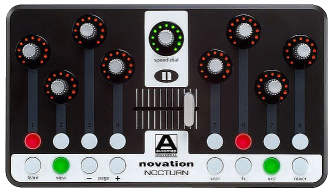 Installation:
Copy 11nocturn.maxhelp, 11nocturn.mxe, 11nocturn.mxe64 into your Max search path.
This external needs an installed libusb* driver for the Novation Nocturn to work.
How to install the libusb driver:


connect the Nocturn and make sure the Novation driver is installed.
create a temporary folder cause you'll need one
execute the inf-wizard.exe included in this publication**
select Nocturn device from list, click "next" until you are asked for a location to store inf-file and use your temporary folder
at the last screen click on "Install Now.." Done!

You can delete the temporary data afterwards.
If you change the USB-port for the Nocturn, your system may install the original
Novation driver again.
In this case just repeat the procedure with inf-wizard.exe.
You can use the Windows Device Manager to monitor driver changes and stuff.

* libusb-win32 is a port of the USB library libusb 0.1 to the Microsoft Windows
operating systems http://sourceforge.net/apps/trac/libusb-win32/wiki

** the inf-wizard.exe file is not my work, it is part of this sourceforge project ver1.2.6.0
http://sourceforge.net/projects/libusb-win32/ (GNU General Public License version 3.0 (GPLv3))
So if you don't trust the executeable file in this release, download it by yourself.
This information is mirrored in the 11nocturn-READ-THIS.txt file.
Files:
11nocturn.maxhelp

11nocturn.mxe

11nocturn.mxe64

11nocturn-READ-THIS.txt

inf-wizard.exe

 288 KB
 
Category: Max Objects