11live.addfile beta

Category
Max/Msp Externals
Files
11live.addfile.mxo 11live.addfile.mxe64 11live.addfile.maxhelp test.11live.addfile.amxd
Description:
Focus in Live needs to be on the target position (a clipslot, a track, a device, ...) before the file is passed over. An added audio file on a midi track will always open with your default setting for dropping samples in Live. I assume that it accepts the same filetypes that you can add with drag n' drop to Live. To replace a drumpad, hotswap needs to be activated before. (can be done with LOM) . But automatic hot-swap of  a sample in a Simpler doesn't work as we can't toggle the sample hot-swap with the LOM.
The zip includes a m4l device so that you can test immediately. 

Capabilities:
load file into clipslot or track

load amxd file

load another Liveset (.als)

load ableton device (.adv)

...
Limitations:
Unfortunately, under Windows OS this method is very slow. (a better solution has yet to be found here). In contrast the file is added quite fast on Mac (see pics below).

Batch operations are complex as we can only add one file at a time and have to reset target focus in Live for every file.

the external will not work if the device is opened in the m4l editor

we can't add vst files as they are handled in a kind of container device in Live

we can't add items that you see in the Live browser which are not based on a real file on your harddisk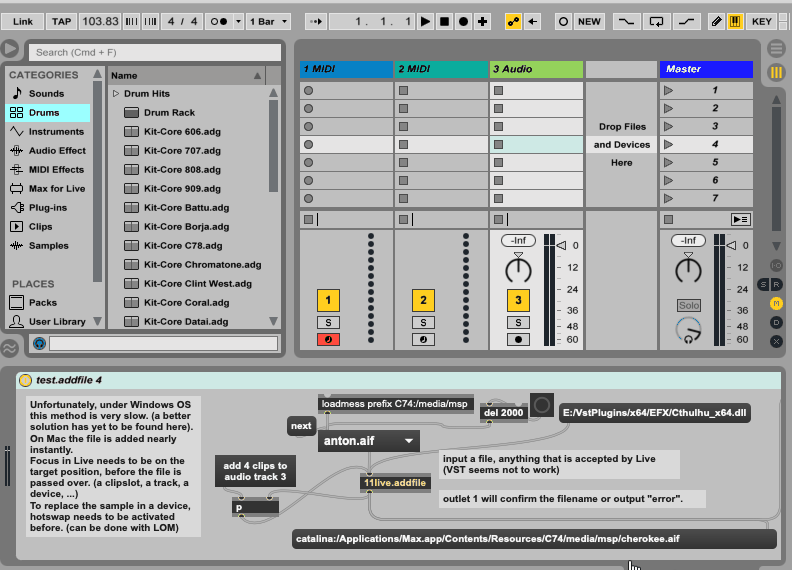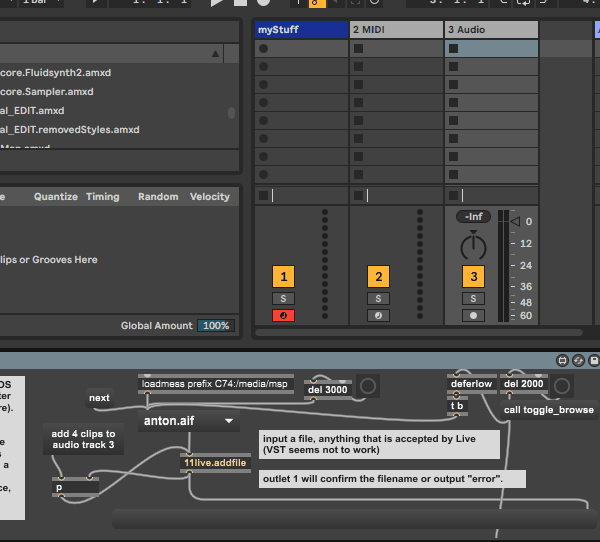 Source Code:
Changelog:
2021/06/12
tryed to fix some irregularities on Mac part of code